Glasgow Layover Tips For Flight Attendants | WOC
Disarmingly blending sophistication and earthiness, Scotland's biggest city has evolved over the last couple of decades to become one of Britain's most intriguing metropolises.The soberly handsome Victorian buildings, legacies of wealth generated from manufacturing and trade, suggest a staid sort of place. Very wrong. They are packed with stylish bars, top-notch restaurants and one of Britain's best live-music scenes. The place's sheer vitality is gloriously infectious: the combination of edgy urbanity and the residents' legendary friendliness is captivating.
What to do in Glasgow for 24h-48h?
Places to Visit
Visit the Kelvingrove Art Gallery and Museum
The museum is free and it hosts an extensive art gallery, including Salvador Dalí's Christ of Saint John of the Cross. They have some great temporary exhibitions as well. When I went there, it was all about Dr. Who!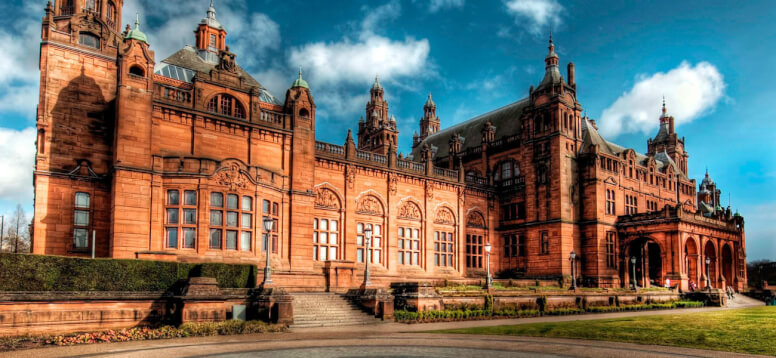 People watch at George Square
Right in the heart of Glasgow, this park is a great place to eat and people watch, try a local beer, or admire the architecture of the nearby council buildings. During the summer, it can get crowded.
Spend the day at Linn Park
Linn Park is a fabulous park that has beautiful scenery and many different walking paths along Cart River. It's great in the summer time.
Visit the University of Glasgow
Aside from it being a beautiful university, the campus lies in an area that's surrounded by shops, restaurants, and parks. Campus staff offer tours that explain the history and architecture of the university.
Relax in Glasgow Green
One of Glasgow's most historical parks, it was used for cattle and sheep-grazing in the 19th century. Now, it's a great place to spend the day having lunch and people watching. It's huge for such a little city and you'll find a lot of riverfront walking paths, the People's Palace, a football green, and tons of little parks and places for a picnic, sleep, or spot to read a book. I absolutely love coming here when I'm in the city!
Wander through the Gallery of Modern Art
A great day activity which allows you to see spectacular sculpture and paintings, and learn about Scotland's most influential artists. There is no entrance fee
Visit Glasgow Cathedral
The cathedral is a fine example of Gothic architecture, dating from medieval times and built on a site first consecrated in 397 AD. It's one of the oldest cathedrals in Scotland. There is no fee to visit, although donations are very much appreciated.
See a soccer match
Glasgow is famous for its love of soccer. The city has three soccer clubs, the most famous of which are the Celtics and Rangers. There is an intense rivalry between the two teams and seeing a match between the two is one of the wildest things you can do here. There are three stadiums in the city, each for a specific club, so it's difficult for there not to be a match, especially if you're here during the summer!
Spend the day at the Loch
 Just a 20-minute drive from the city is Loch Lomond, a beautiful lake with opportunities for walking, canoeing, or even mountain biking. This is a good place to visit if you want a break from the urban atmosphere.
Where to Shop?
Mr Ben
This cute place is one of Glasgow's best destinations for vintage clothing, with a great selection of brands like Fred Perry, as well as more glam choices, on offer.
Shop at Barras Weekend Market
It can be a little crowded, but it's fun to pass through the endless stalls of clothing, furniture, and local treats. It's best in the early morning when the crowds are thinner.
Where to Eat?
Ubiquitous Chip
The original champion of Scottish produce, this is legendary for its unparalleled Scottish cuisine and lengthy wine list. Named to poke fun at Scotland's culinary reputation, it offers a French touch but resolutely Scottish ingredients, carefully selected and following sustainable principles.
Topolabamba
Lots of fun and attractively kitted-out in hipster Mexican decor – all skulls, figurines and tequila crates – this brings a real slice of authentic cuisine to Glasgow, with zingy tacos, tasty tostadas and not a plate of nachos in sight.
Mother India
Glasgow curry buffs forever debate the merits of the city's numerous excellent South Asian restaurants, and this features in every discussion.
Nightlife in Glasgow!
Sub Club
Saturdays at the Sub Club are one of Glasgow's legendary nights, offering serious clubbing with a sound system that aficionados usually rate as the city's best.
Take in some live music 
Glasgow has a pretty decent music scene, with venues catering to different styles and experiences. For something small and intimate (but far from chic), check out a gig at King Tut's bar, or for a bigger (or artistic) event, visit the SWG3 warehouse.
Flight Attendants Discounts in Scotland?
World Of Crew gets you a few awesome deals only for cabin crews in Scotland. Have a look into these and let us know if you manage to visit them during your layover!
Any Cool Experience to share in Glasgow?
How was your layover in Glasgow? Did you discover any new places? If so, please do share these useful tips with your fellow cabin crew, by commenting below!
Have a great layover !
Comments
comments
Tags: 5 tips, best places to visit, cabin crew, Cabin crew discounts, crew discounts, discounts, dubai, Glasgow layover, influencers, layover, Photography, WOC layover tips, woc travel tips, wocdeals, woctheapp, Worldofcrew, Worldofcrewtheapp
Kanupriya Dasgupta
Journalist in the making! My Fastest fingers have worked for India's leading media houses like NDTV, The Times of India and The Telegraph- Calcutta at ABP Headquaters, also worked with digital arm of World's biggest fashion magazine- Vogue. Now steering the web content developer wheel with World of Crew. I am travel junkie and a social media addict.